Cakes for Diabetic Children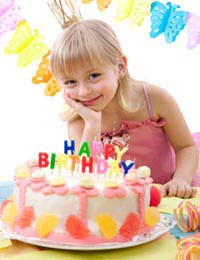 Children with diabetes can have their cake and eat it too; if you follow some simple guidelines when baking for them.There are two main types of diabetes: Type 1 or 'early onset' is the one which is often hereditary and most commonly affects children; Type 2 affects less active, older people, generally speaking. Sadly, obesity and inactivity in younger people has led to an increase in Type 2 diabetes within this age group.
Although some diabetics can eat sugary foods, they should be in moderation. Polyunsaturated margarine is more suitable than others, skimmed milk and wholemeal flour are also better alternatives when cooking for diabetics. A balanced diet is the key to living with diabetes.
The once-limited supplies of specialist ingredients for diabetics have been improved and increased with greater public awareness of specialist diets. Numerous 'free from' products can be bought along with your regular food shopping. These give calorie contents and crucially, the specific breakdown of those calories.
A greater choice of reliable ingredients makes for more variety of cakes for diabetic children; that's more like it!For most Type 1 diabetics, fast-acting insulin is injected when food is eaten. The individual's dosage should be relative to the food carbohydrate content- in order to maintain the important blood sugar balance.
Sweeteners and sugar-free jams are available as alternatives, but substitutes are not what diabetes is all about. Awareness of the calorie content of food and regular glucose level checks of the individual's blood are also extremely relevant.
Dairy-free and low calorie ingredients are particularly useful when baking for diabetics.Unsweetened cocoa powder, chocolate extract and reduced calorie buttermilk may be used in a chocolate version of this sponge instead.
Birthday Sponge Cake
This recipe is enough for one 23cm cake tin-if you wish to make a layer cake, simply double the quantity of ingredients.Preheat the oven to 180C.
Ingredients
1 egg
50g low fat margarine, melted
150g plain flour, sifted
a quarter teaspoon of cinnamon or mixed spice
a quarter teaspoon of bicarbonate of soda
half a teaspoon of cream of tartar
1 tablespoon fructose or sugar substitute
150mls unsweetened orange juice
finely grated rind of one orange
Beat the egg, the (gently) melted margarine and fructose or sugar substitute together. If you do this in a food processor, about 2 minutes on high will be just right. Beating batters by hand takes longer-it's a matter of habit and personal choice...
Mix together the flour, bi-carbonate of soda, cream of tartar and cinnamon (or mixed spice.)Gradually add the flour mixture to the egg, margarine and fructose mix. Alternate the additions ofthe flour mixture with additions of fruit juice and grated rind in similar amounts. Combine these ingredients well.
When all the ingredients are thoroughly mixed together, slowly, pour the cake mix into a lined cake tin.
Bake in the centre of a preheated oven for about 40 minutes.When the cake is cooked, remove it from the oven and leave to cool for 10 minutes.Then, remove the cake from the tin and place it on a wire rack to finish cooling completely.
Filling and Decorating
If you make two of these sponges-so that you can sandwich them with a filling and decorate them- there are a number of low calorie, sugar-free jams and dairy-free cream substitutes available 'off the shelf.'Your cake can be filled with such jams and creams in the knowledge that your diabetic child is not missing out in any way, but, more importantly, is eating healthily!
Curiously enough, when I've made this cake, not one person has noticed it as being any different to the usual fat and sugar overload...there's a lesson there, somewhere.To ice these cakes-whizz fructose in a blender until it looks like icing sugar and use it as such by dusting it over the finished cake.
Alternatively, use jam in the middle of your cake and dairy free whipped topping on top, then decorate with sugar-free sweets or fresh fruits.
Know Your Child
Make sure that at least 2 adults at every party are aware of all the children who have special dietary requirements. Clear instructions of whom to contact-how to recognise symptoms of and what to do- in an emergency.
Diabetics and their families should be aware of the need to make regular checks of blood glucose levels.Diabetes is not just about sugar.
You might also like...