How to Make an Animal Cake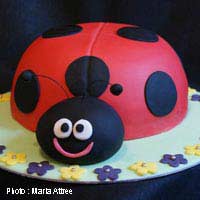 Children love cute and cuddly animals in their many forms-why not make a special animal cake for your animal-mad child's birthday party? By following some basic tips and practising with different shapes and expressions, it is possible to create your own edible menagerie. From simple figures, made with round sponge cakes, to three dimensional ' look it's crawling out of the cake!' characters; there is a style to suit allabilities and preferences.
Animal Shapes
Cakes that are baked in pudding basins can provide perfect bases with which to create any roundedanimal shape.
Picture the shape of an upturned pudding basin-what can you see in yours? Perhaps the big round tummy of a sleeping bear, a cute duckling, the crouched back of a playful cat, a turtle, tortoise or dinosaur, an octopus, a whale, the body of a cuddly owl, a big frog, ladybird or spider; the list goes on!
Now imagine your upturned basin as part of an animal scene. With some additions and a little shaping here and there, it could become a bee hive, a termite mound, a hill of grazing animals, a molehill, a snake pit, jungle canopy, a fish pond, a hatching egg; again, the possibilities are endless.
Another possible dimension for animal cakes is to use two round cakes-one slightly larger than the other- to make an upright animal cake. For example, the larger cake would be secured on the cake board, on its side, to form the body and the smaller cake would be secured to the larger one (with a little cutting and shaping) to represent the animal's head.
These are just a few suggestions to consider before you think about what type of animal cake you want to make; there are also moulded cake tins available...
Example: The Ladybird
This cake can be baked in a 2-litre pudding basin (as long as it's ovenproof!) You will need:
4 eggs
250g self-raising flour
125g plain flour
250g butter or margarine
250g superfine caster sugar
Beat the butter or margarine until soft, add the sugar. Beat until light and fluffy. Add the eggs, one at a time, beat well between each addition.
Gradually fold in the sifted flours, beating well as you add more to combine all the ingredients.Pour the cake batter into a greased and preferably, lined, bowl. Bake in a preheated oven (160C) for about one hour fifteen minutes.
When cooked, leave the cake to cool in the bowl for 10 minutes, then, turn it out onto a wire rack to cool completely before decorating begins.
Cover a cake board (preferably 5cm bigger than the cake) with pre-coloured readymade sugar paste then leave it aside to dry.
Use a sharp knife to slice across the top of your cooked cake to ensure you have a flat surface.Turn the cake over, so the rounded part is uppermost, cover with a generous layer of butter creamin readiness for the sugar paste.
125g butter or margarine
1 tablespoon milk
375g icing sugar
Roll out 650g red (or any colour you fancy) sugar paste to a thickness of just over 0.5cm and cover the cake with this-smooth it down as you go. Trim off any excess, then, place the cake on the covered cake board exactly where you want it.
With the non-blade side of a knife, make a line along the centre of the back of the ladybird, from front to back of the body shape.
Make the head by rolling 155g of black sugar paste into a ball. Stick the head onto the body, about3cm up from the cake board, on the centre line of the ladybird's body.
You can either use more black sugar paste for the ladybird's spots, or round sweets. Two, liquorice twists make good antennae and the eyes can be made with white sugar paste or sweets, with acontrasting colour in the centre.
Use a stainless steel egg cup, or similar, to indent a big smile on the face.The beauty of making cakes at home is that you will feel inspired as you go along and see things from your own, unique, perspective.
Don't be afraid to experiment with shapes, designs and colours!Flick through some of your children's books or comics for inspiration if you're undecided and be guided by the outlines you see. Keep things simple, that way they are most effective.
You might also like...