Cake Ideas for Four to Seven Year Olds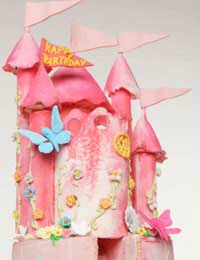 This is an age of magical discovery! Witness the open-mouthed wonder of a child whose birthday cake has been made with TLC; especially for them. When you are up to your elbows in flour and eggs, think ahead to the moment when your creation will be seen by your birthday child for the first time...it's worth it. Make sure there's a camera ready to record the event.
Fairytale Castle
This looks fantastic but is so simple to put together! You don't even need to bake any cakes...Use 3 or 4 shop-bought swiss rolls to create tall towers and a few mini ones for variation-to create a3-dimensional-fairyland look.
Large and small marshmallows can be used to make castle doors, be piled up to make pointed roofs and turrets, cut into diamond-shapes to make castle windows and a few edible silver balls can be added to reflect the light. Finish off with a light dusting of edible sparkle powder to maximise the fairytale look.
All you really need to do is make butter cream to cover them all then roll some readymade white or coloured sugar paste to cover the butter cream.For plain butter cream: 350g softened butter or margarine, 175g icing sugar and 2-3 tablespoons of cold milk.
Beat the butter or margarine until creamy-either with a wooden spoon or an electric whizzer. Beat in the sifted icing sugar, a little at a time, then add a few drops of milk to get the consistency more liquid.
(This can be flavoured with cocoa powder, orange rind and juice or vanilla.)Spread the butter cream over the cakes before covering with sugar paste and decorating.Swiss rolls can be adapted to look like a caterpillar, a fort, a log cabin, a wigwam...let your imagination run riot!
If you're unsure about the finishing touches, look at pictures of what you are trying to create and copy the layout; just use edible goods instead!It is possible to make just about any shape of cake by improvising. A basic round, or square, cake can be sculptured, added to and generally redesigned to suit your plan. Colours and decorations canfurther transform the completed shape.
A helpful guide is to look at children's books and toys, then picture the cake. A few liquorice wheels and laces here, one or two chocolate flakes there, a little modelling with sugar paste and you can set a whole scene on your cake board.Have a go!
To see how easy it is to get into the modelling side of cake-making, try making one large square cake, then cool it and cut it into smaller squares.
Trim off the corners of each square and cover with different coloured sugar pastes, then, make little hands and feet, a spike of hair and stick on sweets that look like eyes. Use a small sharp knife to carve big smiles and another sweet for a button nose.
Pile them all up like an acrobatic pyramid and you have a load of little monsters...each party guest can take one home then. Simple but different.
Two square cakes, stuck together side by side can be worked on to look like a book.Two round cakes, stuck together side by side can be made into a cute kitten.
Edible writing gels and easy to use readymade sugar paste tubes make it simple to create your own one-off cake.
Cake shops sell 'Happy Birthday' decorations and assorted, readymade, edible flowers and numerous other finishing touches for homemade cakes.
Plan your cake on paper first and cut out templates if you think that will be easier and try to stick to the mental picture you have.
Making a magical cake is not difficult-so go on, get creative!
You might also like...
Hi. I love site and wondered if you could help me ? I want to make an unusual but simple birthday cake for my nearly 7 year old niece/goddaughter. Problem is that I'm disabled and have problems with my hands so I'm not very dextrous. My niece is very grown up for a 6 nearly 7 year old so the cake can't be to basic. I made basic caterpillar cake last yearanbut didn't get the Wow reaction that I wanted. Thanks for your time
Loopy
- 5-May-15 @ 6:55 AM