How to Make a Butterfly Birthday Cake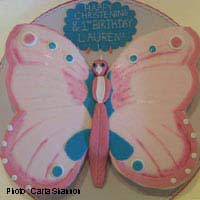 Transform your cake mix into a beautiful butterfly! Follow these simple steps to create an original and decorative birthday cake for your child.One of the easiest ways to achieve the themed cake you want is to hire a cake tin of that shape and follow the recommended guidelines for quantities. Cutting cakes to shape is not difficult, though it is worth having a trial run before the occasion to perfect your technique. (And using up any that go wrong is never a problem...)
Cake Recipe
Make two 23cm sponge cakes of your choice-Madeira is easy to make and good to work with (see recipe for Madeira sponge in: 'Birthday Cakes for a First Birthday' article.)Turn out the cooked cakes; from either the hired shaped tin or your own two cake tins. Allow them to cool thoroughly on wire racks before cutting in half, horizontally, then spread with butter cream filling and gently push the two halves back together.
If shaping the cake yourself, use a serrated bread knife to cut both cakes, vertically, in half. You will now have a straight edge on the inside of the two halves. Now you need to cut the two halves again, this time into 1/3 and 2/3 pieces.
To get the shape of the butterfly wings, it is important to cut the cake pieces equally. I find it easier if I imagine a clock face on the cake, but one on which the central point has dropped down about a quarter.
On the left hand side cake half, mark a line (the clock hand) with your knife from one third of the way up the centre line going up in a diagonal line to just beyond where the number 9 would be.On the right hand side cake half, mark a line (the other clock hand) from one third of the way up the centre line to just before where the number 3 would be.
Use a tape measure if you're not sure, but this should give you two larger pieces at the top of your 'clock' and two smaller ones at the bottom, making two 1/3 pieces and two 2/3 pieces.Alternatively, use cocktail sticks to mark the line if you find this easier.
Now turn the two halves around, so you have the rounded edges of the cake next to each other.This gives you a good idea of how your butterfly shape will look when you cut through the lines you have marked; make adjustments now, if necessary.
Cake Filling
Butter cream and jam make a tasty but simple filling for this cake.
Alternative Coverings
Readymade icing that just needs rolling and cutting to shape is ideal. It can be bought in a variety of colours and is simple to use (similar to handling plasticine) don't be alarmed if your hands change colour when handling it!
This ready-roll can be decorated with tubes of icing; these also come in several colours and are supplied with different nozzles. No fiddly piping skills needed; it really is very simple to use!Edible icing paper is another easy way to cover your cake-peel off the backing paper and stick onto the cake.
Your butterfly birthday cake can be decorated however you like-liquorice twists make good antennae and patterns can be made with sweets if you don't fancy creating patterns with icing tubes.Finish off with birthday candles.The overall effect of shape and colour is appreciated before the taste!
You might also like...