Unusual Birthday Cakes for Kids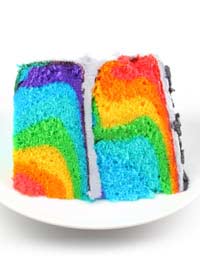 Every parent competes to some extent. Naturally,we hope our kid's party will be remembered as one of the best ; one way of making sure yours is a one-off is by providing an unusual cake.How do you create something so out-of-the-ordinary when you're' just an ordinary parent' though?Easy!
There's no such thing as an ordinary child, parent, or cake...How unusual you decide to make your cake may depend on how tolerant your kids are of eccentric behaviour, how happy they are to be a bit different and whether you are prepared for the comments that will undoubtedly be made! Does unusual still appeal? Great, let's investigate further...
How to Change the Basic Shapes
Birthday cakes for kids are usually round or square; so, a change to the basic shape is the first step to making an out of the ordinary cake. If you stack up three round cakes, one on top of the other, you will have the beginnings of a hamburger shape.
If you then make the cake look like a burger that is definitely different, but not difficult with readymade coloured sugar pastes.Does your child spend hours on their computer? A square cake could be cut into an 'L' shaped desk and all the computing paraphernalia made by moulding coloured sugar paste.Sugar paste really is that simple to work with; it's just like plasticine!
Improvise with Shop-Bought Cakes
Swiss rolls and mini rolls are great for cake-designing and don't involve any baking at all. They can be covered and shaped to create many different features. A combination of swiss rolls and square cakes cut into steps makes the base of a fantastic theme park ride/slide or similar.
How everything is stuck together is what makes a cake unusual! (You can even make your theme park ride look like a water chute if you use a roll of blue readymade sugar paste sculpted into waves.)
Avoid flat and one-dimensional, think 3-D!
Have a mental picture-or a photograph-of what you want to do and adapt your basic cake shapes to fit the picture. Enjoy making it and it will show in the result!For make-up mad girls, one simple but very unusual idea is to cut a round cake in half, stand both pieces on their flat edges next to each other and 'glue' with butter cream, but leave an opening at the top between them.
This can be made to look like a handbag and either edible copies-or real make up items-can be scattered in and around it. Write the birthday girl's name on the bag and you've made a very unusual birthday cake that she will love.
A simple round cake can be adapted to look like the tea party itself-simply by adding a few sugar paste figures, a patterned 'tablecloth' and moulded sandwiches, mini cakes etc. Use all the levels to keep a three dimensional appearance; perhaps make a puppy's head or tail to stick out from beneath the table, that sort of thing.
To make your child's birthday cake unusual all you need is a little imagination or a picture to work from and plenty of readymade, coloured sugar pastes...piece of cake.
You might also like...
@Katy I've made a similar cake to this and the children loved it!! I made my normal sponge cake mixure and separated it evenly into 4 bowls. I then added a small amount of food paste colouring to each of the mixtures and baked each of the mixtures individually. Once cooled I added a buttercream layer and stacked them on top of each other – rainbow cake!
Cakemonster
- 21-Jun-12 @ 12:54 PM
Would like to make the sponge cake which is multicoloured - it is shown on the unusual birthday cakes for children page - could you please help me? Thank you
Katy
- 21-Jun-12 @ 11:14 AM