Planning a Birthday Party at Home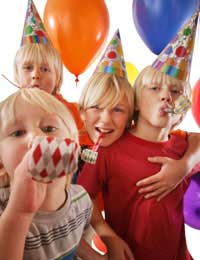 Are you brave enough? Are you mad enough? Are you a big kid yourself? If you can answer 'yes' to all these questions you will be great at organising your kid's birthday party at home...
It will also help if you are no less than: an incredibly energetic domestic god/goddess; a calm-but artistic and imaginative-practical person; one who has the patience of a saint and an unshakeable sense of humour, but, above all, you are a parent who enjoys being a parent!Planning is the operative word to holding successful kids parties at home. Flexibility is another.
Who's Coming to Tea?
Write a list of who is to be invited. If your child is old enough to express their wishes, listen, and write it with them. Consider the number of people for the amount of space in your home. When is the best day to hold the party at home?
Consider work/school/college commitments of immediate family members who would expect and wish to be involved-and whose help you will need!
Where Will the Party Take Place?
Babies and toddlers can be entertained, fed and watched more easily, in one designated party room. Older children are naturally inquisitive and more likely to wander about, unless there are clear 'off limit' areas. (Particularly important if you have a swimming pool, animals, insecure garden or a road nearby.) For simplicity and safety, it is best to hold the party in one or two rooms where kids can be properly supervised the whole time. (Make sure everyone knows where the loo/hand-washing facilities are.)
How Long Will the Party Be?
This depends on the ages of the children and your stamina...For little ones, 2 hours is plenty of time to have fun and be kept busy without anyone getting tired and fractious. Don't overdo it and it will end on a happy note. Keep it short and sweet for under 5's.
Who Will Help?
Delegate! Dad's, siblings, grandparents, aunts and uncles...they can all help in some way. Have a chat in advance and decide who is best suited to which job.
Get help on the day, or before, as you decorate the party room, set up games and entertainment,make sandwiches, jellies etc.
Double check that the area is safe for enquiring little people to be in, and remove any ornaments that still exist in your home. Think soft, safe, landings and no breakages!
Entertainment
If you plan to hire a professional children's entertainer, check them out first, only book them if you're happy and make sure they have the space and supplies they need to do their job. Personal recommendation from other parents or recognised kids groups is useful.
Game Plan
Take time to greet all the children and help them to settle in. Some may want a parent to stay with them; be prepared for extra guests.Have music playing, relevant to the child's age; something familiar that will help them to feel relaxed and at home.
Once all the children have arrived, get a game going that will help to break the ice and give them something to do without them going overboard.
Make sure there is good continuity from one game to the next and that everyone has a chance to win something-and does!
For younger children it is a good idea to have a quiet corner-where they can sit and draw or look at a book-if they need to escape from the noise and activity. Kids like the opportunity to 'dip in and out' to some extent.
Encourage shy children to take part without pressure.It is preferable for children to sit up at the table for tea. (Better for their digestion and your carpets.) The birthday tea is the highlight of the party, so serve it towards the end. The children will have had time to get to know each other by this stage and will not be as shy.
Goodie Bags
This is a matter of choice, but don't forget the slice of birthday cake!
You might also like...