Birthday Parties for Eight to Twelve Year Olds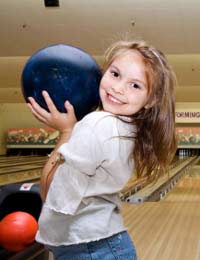 Planning parties for children in this age range can be extremely challenging and rewarding! The kids are no longer 'little ones' but neither are they 'old enough' to do as much as they'd like.
This is an in-between phase, where an element of independence can be encouraged under thewatchful eyes of responsible adults...It's not about how much money you spend, but how much time you spend planning and sharing the day.
Boys and Girls Go Out To Play
It doesn't matter if your birthday personality is a boy or a girl; both enjoy (and probably expect) a huge choice of organised outdoor group activities on offer as birthday packages. Duringthis stage of their childhood, they are most likely to continue to have mixed parties too. If yours has reached the 'I hate girls/boys' stage, though, consider this when planning the event. Don't forget that family members, like cousins, also count and it would be a shame to ruin good relationships!
Talk to your child-find out what they would like to do and who they would most like to share their birthday with. If necessary, family duty can be satisfied at a separate event...Our 'average' eight-to-twelve year old needs mental stimulation, physical activity, a sense of belonging and a sense of self. Oh yes, food, fun and birthday presents are important too!
Here are some popular ideas for active, outdoor, types that can also help team-building skills.Work out how much money and time you intend to spend on the party first.Organised and supervised birthday activities at a local swimming pool or fitness centre.A group lesson in your child's activity of interest: for example, horse riding, sailing, archery, skiing or snowboarding (check out local dry slopes.) These are all physical, tiring, challenging andgood for working up an appetite! Follow this event with an Italian meal, or similar, and your child will feel great.
Hassle-free Group Activities
Laser quest parties-height and age restrictions may apply.
Go-Karting parties-restrictions may apply.
Paintball-check for restrictions here, too.
Bowling parties.
If you plan to spend several hours partying, a combination of treats can work well. It keeps the kids' interested and gives them all a chance to shine.All the active options can be balanced with a more sedentary activity. This can encourage the noisy excitable children to calm down for a while and give the quieter ones confidence.
For this age group, the opportunity to let off steam first is advisable! It's unreasonable to expect them to arrive at your home, or anywhere else, sit quietly, eat, go home...Life's too exciting!Try to plan it so the charging around, burning off energy and noise activity takes place first. Apart from the obvious, this also gives the kids a chance to weigh each other up and fit in.Follow this with a trip to the cinema, or a pottery where they can make and decorate pots, oranything else that requires them to sit down and concentrate on something for a while.Another burst of energy in the park, then feed them and send them home!
Alternatively, take them to one activity then home, where you have games ready-and the all important birthday tea.It's not necessary to spend a fortune. Use what facilities you have near you that are affordable. Spend your time in planning and sharing their birthday-it is far more important and your child will appreciate it. (Don't expect them to tell you that in front of their friends though...)
You might also like...