Where to Have Your Child's Party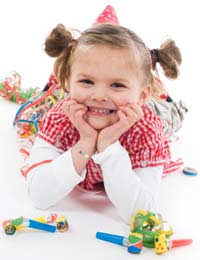 Indoors, outdoors, home, or away? The decision depends very much on the time of year and weather forecast! Here we look at some of the factors that may help you and your child to decide.
Match the Age and Character to the Occasion
Decide what character type you are catering for: lively, outdoor, sporty kids need to let off steam and be kept busy!Quiet, shy, fragile, children may prefer an activity that does not throw them into the limelight; like making pottery or attending a similar, craft-based, group workshop for children.
Museums, galleries, live theatre, dance or music can make a great day out for the more studious and arty types.
If your child is the rough-and-tumble type who loves adventure and the great outdoors, any attempt to deny these energetic inclinations-by providing a sedentary indoor party-will not be appreciated. Talk to him or her, share ideas, write a list of who will be invited, then do some sums!
A local adventure park-where your barrel of monkeys can burn up their excess energy without the need for home insurance claims-may be just the place. (Even better if they have indoor play facilities too in case of wet weather.)
Laser quest, go-karts, trampolines, dry ski slopes, adventure playgrounds, crazy golf, bowling; all these activities can provide fantastic outlets for your action-mad youngsters.
Swimming or football parties are another great way to wear them out in a safe environment and many public baths or sports centres will provide reasonably priced meals for birthday parties.
Value for Money
How much you spend can vary greatly; depending on how many children are invited, which activity you choose and what else you intend to provide.
Parties at home can be the cheapest and best; as long as you don't go too mad! It is necessary to be very well organised in advance, though, or the little darlings will run amok.
Consider numbers, space, entertainment and food and be sure to give clear start and finish times to parents. (The number of people that assume this is at their convenience is amazing...)
Props for indoor party games need to be set up in readiness and outdoor activities will need constant supervision, too, so rope in a team of relatives and/or friends to help and have it all ready before the first guest arrives.
If you really can't face the thought of holding a party at home, don't attempt it; there are plenty of alternatives! Older children may enjoy seeing a film and having a meal afterwards. Simple.
The Village Hall
Often cheaper than a party-booking elsewhere, this can be ideal for big parties-especially when you split the cost with another family and hold a joint party for two children. Professionally run disco's with smoke machine, laser show, competitions and more may provide all the entertainment the children need. If you do your own hall decorating and catering too, that can save a lot of money.
Activity Days
Ask other parents in your area about local facilities and look in the local paper, telephone book and library. Farms with pets to stroke, lambs to feed, nature trails, archery experience days, canoeing, boat charters, birds of prey handling, buggy racing, the list goes on! There will probably be at least one or two activities for birthdays held near you. Find out if there are height/age restrictions and make sure they are insured!
Your decision will be easier to make if you list certain criteria, such as:
Number of children to be invited
Ages and abilities
Likes and dislikes
Distance to the party venue (will you need more drivers to ferry all the kids?)
Calculate how much, per child, you are prepared to spend
Is the venue/activity suitable for all weathers?
How much time are you able to dedicate to the event?
In a nutshell; hold your child's party where they will enjoy it, you can afford it and do as much preparation as you can weeks before so that you can enjoy it too!
You might also like...