How to Make Birthday Cupcakes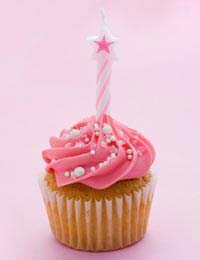 Cupcakes appeal to younger children, in particular, because they are easy for small hands to pick up and hold and they can be attractively decorated.
With a little effort, they add colour, depth and originality to any birthday tea table.
Inexpensive waxed paper cases for cupcakes can be bought from cake shops and major supermarkets.
Foil cases may cost a little more-and I would not recommend them for little ones to hold as they may be sharp in places. Preheat the oven t0 220C.
Ingredients for 20 Small Cupcakes
200g self-raising flour
50g superfine caster sugar
50g margarine
2-3 eggs
Half a teaspoon of baking powderCream the margarine and sugar together until light and fluffy. Next, add the beaten eggs a little at a time and stir well between each addition.
Finally mix in the (sieved) flour and baking powder. Combine all the ingredients together until the consistency is light and the mixture falls in drops from your spoon. If necessary, add a few drops of cold milk to achieve this.
Bake the individual cakes for 15-20 minutes.To make the icing for the tops of your cakes, sift 175g icing sugar into a bowl and mix with 1 tablespoon of water. Stir until a smooth icing is formed.
Once they have cooled thoroughly, blob a little of the icing mixture onto each cake and spread it over the top. You can then decorate with jelly diamonds, jelly babies, angelica, chocolate buttons, dolly mixtures, smarties or whatever edible goodies you fancy-try making smiley faces!
This basic recipe can be flavoured with the grated rind of an orange or lemon; 50g quartered glace cherries; half a teaspoon of vanilla essence; 50g desiccated coconut or 100g dried mixed fruit, to provide a variety of flavours.
Using different coloured icing also looks attractive-simply add a few drops of food colouring to batches of basic white icing to achieve a rainbow of coloured cakes.
Another idea for personalising cupcakes is to use one on top of the other. Stick the top of one to the top of another (the widest parts of both) with a butter-cream filling or similar and they can be decorated to look like people, aliens or weird and wonderful creatures.
Explore with the basic shape. For example, if you remove the waxed paper cases and turn the cupcakes upside down, so the widest part is at the bottom, you can decorate them to look like ladybirds, hedgehogs, dinosaurs, spacecraft and all sorts of original things.
Orange Butterflies
Preheat the oven to 200C to bake these delicious traditional favourites. The following quantities make 24 cakes.
Ingredients
150g butter or margarine
150g superfine caster sugar
2 eggs
1 tablespoon finely grated orange rind
2 tablespoons orange juice
275g self-raising flour
Beat the butter to soften it then add the sugar and continue to beat until the mixture is light and fluffy.
Next, add the beaten eggs a little at a time. Mix well. Gradually add the sifted flour to your mixture, followed by the orange rind and juice.
If using greased patty tins, half fill them with the prepared cake mixture. Alternatively, use waxed paper cases and place them about 2cm apart on a baking tray.
Bake in the centre of the oven for about 12 minutes, until well risen and golden. Once cooked, allow them to cool on a wire rack.
For the filling, make orange-flavoured butter cream by beating 125g butter or margarine with 200g icing sugar. Add 2 tablespoons of orange juice and the finely grated rind of an orange. Mix together well.
Once the cakes have cooled, carefully cut a slice across the top of each cake, about 1cm thick. Spoon some orange butter-cream into the top of each cake. Next, make the butterfly wings by slicing each 1cm thick slice into two and sticking them into the butter cream so that they look like outstretched wings.
Dust with icing sugar (fairy dust) and decorate the serving dish with some fairies or whatever else inspires you. Once your magical scene has been sighed and gasped over, be sure to remove anything unsuitable for very young children.
Cupcakes can be dressed up and decorated according to your birthday party theme. Serve an adventure, not just cakes!
You might also like...