Buy or Bake Your Child's Birthday Cake?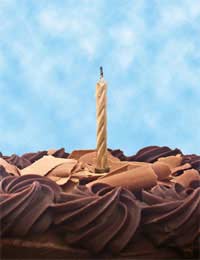 Every year, all parents face a difficult dilemma – buy or bake the child's birthday cake. It's no secret that it would much more satisfying to bake and decorate your own cake, but sometimes, time just doesn't allow it.
Here we will look at the advantages and the disadvantages of buying premade birthday cakes, and taking that leap to making your own.
Buying Premade Birthday Cakes
Buying a cake already baked and decorated is probably the quickest and easiest way of getting a birthday cake for your child. The cakes you buy in store will already come with decorative icing, and you should be able to find birthday cakes in lots of different shapes and sizes.
If you want a character birthday cake for your child, you may have to buy it from a local bakery and pre-order it before the actual party date. Some supermarkets do stock character birthday cakes, but they are usually in limited styles and stock.
Check The Ingredients
It is always worth checking the ingredients list on the cake that you are thinking of buying from a supermarket. Your child may suffer from colorant allergies, or other food allergies that come from ingredients that are commonly found in premade birthday cakes.
Check the ingredients list for E numbers and other unsavoury additions to the birthday cake - remember that they are not usually made fresh and will include ingredients to make them last longer.
Buying from a bakery may give you a little more control over the ingredients that are put into the birthday cake. You can specifically tell the bakers which ingredients need to be left out and what can be put in to the recipe.
Below are the pros and the cons to buying a premade birthday cake for your child's birthday:
Saves time by not having to bake and decorate the cake yourself
There is usually a reasonable choice for the type and flavour of the birthday cake
Watch for hidden ingredients, food colourings and E numbers
Baking Your Child's Birthday Cake
Baking a cake isn't difficult when following the recipes exactly. There are lots of different types of cakes that you could bake that can be used as a birthday cake for your child's party.
Victoria sponge
Marble cake
Chocolate cake
Fudge cake
Fruit cake
Lemon cake
Strawberry cake
You can tailor your child's birthday cake to fit exactly what they love the most. So, if your child is a huge fan of chocolate, you can create a delicious chocolate sponge cake.
If your child does have specific food allergies, you can create a birthday cake that fits their dietary needs perfectly without substituting on taste and flavour.
Although baking the birthday cake takes more time than it does to go and buy a premade one, there are lots of reasons why it is better to bake than to buy.
You can easily control exactly what goes into the cake. There will be no added preservatives in the cake, and there won't be excessive amounts of sugar.
You can make sure your child gets the birthday cake they want by making it specifically to their requirements.
You can include your child in the baking and decorating of the birthday cake. This is a great way to spend some quality time with them, and allows them to be very proud of what they have helped to make.
You can always make the cake a day or two before the party and decorate the night before; this may take away some of the time constraints when planning a child's birthday party.
Whether you buy the cake already done, or you decide to have a bash at baking and decorating it yourself, your child will have a wonderful party with a birthday cake to remember!
You might also like...